Missouri Plus Scholarship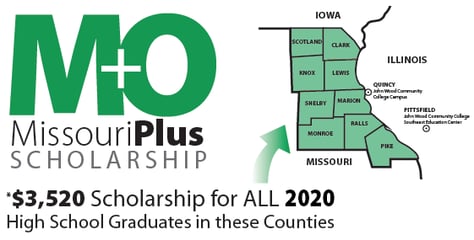 Are you a 2020 high school graduate?
Do you live in one of these counties?

Clark, Knox,
Lewis,
Marion,
Monroe,
Pike,
Ralls,
Shelby,
Scotland
Congratulations!!!
If you answered yes to both of these questions, you qualify for the Missouri Plus Scholarship!
A $3520* Scholarship is waiting for you at JWCC. Just sign up it's that easy.

Right across the river, there's more:
Programs and Classes (Start your bachelor's OR Career/Tech)
Campus Life & Student Experiences
Shopping & Food (Tacos INK, Zoup and County Market on campus)
Study & Work Time – No Class on Fridays!
*$3520 for students taking 32 credit hours in an academic year based on 2018-2019 out-of-district rate. Students taking more or less than 32 credit hours will receive $110 scholarship per credit hour taken based on 2018-2019 out-of-district rate. Scholarship does not apply to online classes. Students enrolling at JWCC within one year of high school graduation above will qualify.