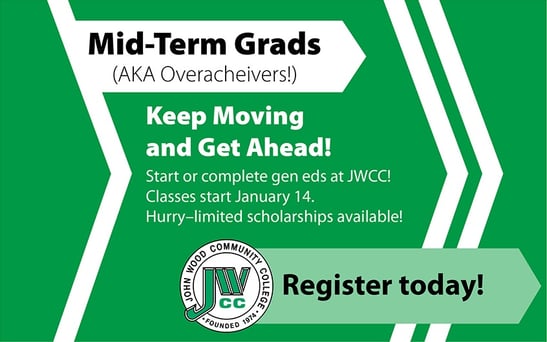 Complete a full semester of general education classes
or pick up some major-specific classes at JWCC this spring!
Classes start Jan 14!
Same quality classes as four-year universities, credits transfer across the country and cost a LOT less.
Online – Classroom – Hybrid (mix of online and classroom)
You may qualify for Financial Aid and limited
Midterm Scholarships are available.
(We love overachievers who finish high school early and try to reward them for it!)
Questions? admissions@jwcc.edu or 217.641.4337
Apply to JWCC and Midterm Scholarships- deadline extended to December 1.
1. JWCC Admission Application (click here to apply-select first time user)
2. Fill out the form below to apply for the Midterm Scholarship.